Buffalo Holistic Center is partnering with a local spinal surgeon in Niagara Falls, Dr. Franco Vigna. 
Dr. Franco has developed a line of products that we believe strongly in and will be offering for sale. You can call us at 716-877-7077 to place your order and pick them up at the Center.
Here is some information about each one:
Relief is a powder that you can mix in water or with a protein shake; one month supply for $59.99
Restore24's RELIEF Formula is Your 100% Drug Free, All-Natural Support for Aches and Pains!
Do you live with aches and pains?
Are you tired of always hurting?
This pain may result from aging or an injury, and you are not alone…
In 2019, 
CDC.gov
 found that over 20% of adults suffer from chronic pain.
You have probably been looking for a non-prescription, non-addicting solution.
If so, give RELIEF a try, it's specially formulated by medical professionals for people like you looking for something that could ease your suffering.
We Even Named Our Product "
RELIEF"
 Because That Is What it Is Designed To Give You!
Decreased Inflammation*

Increased Mobility*

Non-Addictive

Improved Recovery After Physical Stress*

100% Drug-Free*

May Be Used By Those With Gastric Bypass Surgery*
BACKED BY SCIENTIFIC STUDIES
RELIEF contains active ingredients that research shows to be effective.
RELIEF is most effective when combined with a healthy diet and exercise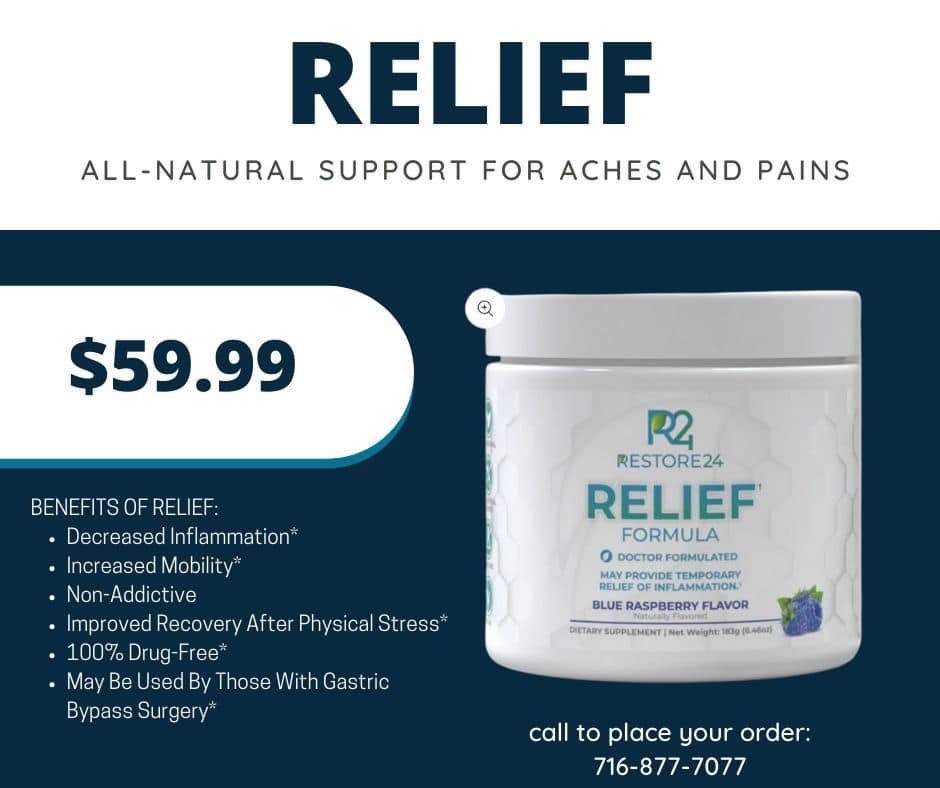 Improve Your Quality of Life!
Relief Combines 4 Ingredients to Reduce Inflammation and Provide Support for Minor Aches and Pains
Immune defense Is a one month supply and is in capsule form; for $39.99
Immune Defense is Filled With Quality Ingredients to Give Your Immune System the Support it Needs All Year Long!
Do you work in healthcare or in a setting where you are close to sick people?
Do you have school-age kids who constantly come home with a runny nose and cough?
Are you a person who wants to remain healthy and have a strong immune system?
The common cold is very common; and children can catch a cold up to 12 times per year, and adults average 2-3 per year. As we age, the incidence can increase because our immune systems gradually become weaker.
Restore24 Has Formulated an Immune Boosting Formula To Give Your Immunity the Best Defense!
Benefits of Immune Defense
Reduces Incidence of the Common Cold*

Enhance Antibody Response*

Reduce Incidence and Severity of Symptoms of Respiratory Tract Infections*
Immune Defense is Backed by Scientific Studies
Immune Defense
is loaded with ingredients shown to be effective.
Immune Defense
is most effective when combined with a healthy diet and exercise.